Peggy's
story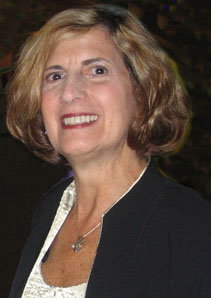 Peggy Spiegler was a loving daughter,a devoted mother, an excited grandmother and grandmother-in-waiting, my special wife.
Peggy Spiegler was a loving daughter, a devoted mother, an excited grandmother and grandmother-in-waiting, my special wife. But on January 8, 2008, Peggy awakened, claiming that she didn't feel terrible, but she also didn't feel "right". She went to her primary care physician who examined her thoroughly but couldn't find anything wrong. He asked her to take some blood tests, but when the tests came back normal, he advised Peggy to contact him if there was no improvement. A week later Peggy returned, distressed that she didn't feel any better and asking the doctor for an antibiotic. Because the doctor didn't know the source of Peggy's problem, he refused and again advised Peggy to remain in close contact with him.
By mid-February Peggy began to experience some pressure in her chest, and, at the same time, she also noticed two small nodules, almost identical in size, on both sides of her abdomen. This time her doctor suggested a chest x-ray, but after Peggy's x-ray the following day, the technician insisted that Peggy contact her primary care physician before she left the radiation unit. We knew Peggy was in trouble.
The x-ray showed a tumor in Peggy's left lung. The doctors scheduled a CAT scan for the following day, confirming the presence of the tumor. When a biopsy of the mass in her lung came back as inconclusive, the doctors decided to take a biopsy of one of the nodules in her abdomen. The diagnosis: stage-four melanoma. Desperate for another opinion, Peggy sought out an oncologist at the University of Pennsylvania who scheduled a PET scan. The scan showed that there were lesions in her lung, her brain, and her liver. Within a six-week period Peggy went from not feeling right to stage-four melanoma with brain involvement.
Peggy underwent a gamma-knife procedure and began a clinical trial that included chemo-therapy. She stayed on the clinical trial for eight weeks and then had another PET scan. The scan showed that the drugs were failing to stop the spread of the melanoma and that there were now even more lesions in her brain. She had a second gamma-knife procedure and started a new clinical trial. Four weeks into the new clinical trial Peggy had to be hospitalized. She had to stop her treatments. On July 29, 2008, ten days after stopping her treatments, Peggy lost her battle with melanoma.
Peggy was not a person who neglected her health, and this detection was not something Peggy would have ignored. She was very vigilant; Peggy was a woman who took care of herself. Each year she went for her check-up with the dermatologist. She put on sun screen when she went into the sun. She exercised, watched her diet, and did everything in moderation. The doctors never found a primary site of origin of the melanoma. Two oncologists looked her over from head to toe, but they never found anything on her body that they could attribute to the cause of her melanoma.
Throughout her entire struggle Peggy conducted herself with the strength, class and dignity that made her such a special person. She never asked, "Why me?". Instead, Peggy often asked "How are YOU coping?" When people called on the phone or came by for a visit, Peggy would always make them feel that no matter how tough the situation, everything was going to be all right. Even in her final days Peggy had a way of making us believe that somehow, some way, her illness was going to have a happy ending. She knew it just had to because, as Peggy said, "I have too many things to live for."
Peggy was a teacher who truly loved her profession. She never short-changed any of her students. She was a great friend to everyone; there wasn't anything she wouldn't do for her friends or family. Nothing was an inconvenience. She loved to knit, walk, talk, read, travel, and play mah-jongg. She always looked for the good in people and never criticized anyone for anything. Her greatest love was her family, and nothing was more important to her. Everyone in the family knew that this was a woman who would stop whatever she was doing or cancel any plans she had if we needed her. They also knew that there was nothing like a hug from Peggy. She always knew when we needed one, and we just knew that everything was going to be all right when she gave us one.
Peggy made us better people because she did not get caught up in the pettiness of everyday life. Whenever we asked her advice on how to act towards another person, she would always reply with a statement that she lived her life by: "It never hurts to be nice." She had an amazing heart, and people just enjoyed treating Peggy the same way she treated them. Peggy touched the lives of so many people, and, in many ways, she continues to touch us.
Peggy did not get to choose when she would die, but she got to choose the terms of her death. Peggy knew that it was time to stop her treatments, and she did. Until the very end she worried about everyone else but herself. Peggy left a tremendous void in the lives of many people, and those of us who were lucky enough to know her carry her very generous spirit with us. Although Peggy lost her battle with melanoma, it will never conquer her spirit. With your help, we are determined to continue her fight to beat this disease.
Please help remember the life of a very special person and help us raise money to stamp out melanoma, this awful disease. Join us for our annual walk/5k run, and other events, and help the Peggy Spiegler Melanoma Research Foundation raise money, so we can help prevent another family from feeling this heartache and indescribable loss.
PSMRF is a 501 (c) (3) not for profit organization. All donations are fully deductible to the full extent of the law.