Community Outreach
PSMRF is committed to support and fund public programs which spotlight on the latest in medicine and research in order to disseminate educational information about the prevention of melanoma and other skin cancers. If treated early, melanoma is usually preventable.
2016/2017
Lynn M. Schuchter, M.D. – Dr. Lynn Schuchter is the University of Pennsylvania Perelman School of Medicine's C. Willard Robinson Professor of Hematology/Oncology, she is the Chief of the Hematology/Oncology Division and Program Leader for the Abramson Cancer Center's National Cancer Institute approved and funded Melanoma & Cutaneous Malignancies Research Program. Her research has focused on the development of new treatments for patients with melanoma in studies that have focused on immunotherapy and targeted approaches. Dr. Schuchter has utilized her senior administrative, clinical, and investigative leadership strengths and experiences at the University of Pennsylvania to foster translational research. She has extensive experience in melanoma translational research, and thus serves as an important link between basic scientists and clinical investigators. She is a recognized expert in the field of melanoma and an experienced investigator in the development and conduct of melanoma clinical trials. She has been the principal investigator of numerous phase I, phase II, and phase III melanoma clinical trials. She is the past chair and current member of the scientific advisory committee and a former member of the board of the Melanoma Research Foundation, a nationwide organization that is the largest advocate group for this disease. She is a past member of the American Society of Clinical Oncology (ASCO) Board of Directors, recentpast-Chair of ASCO's Cancer Research Committee, and Chair of the Scientific Program Committee. Dr. Schuchter has a strong commitment to and passion for mentorship and a long track record of success. She has a proven record of training physicians and scientists interested in both translational and clinical oncology research. She believes that careful mentoring is critical to the success of the next generation of cancer researchers which has been an essential component of her career. She serves as mentor for residents, fellows, and faculty and has particular interest in the mentorship of junior faculty.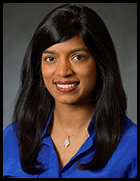 Dr. Tara Gangadhar is currently an assistant professor of medicine at the University of Pennsylvania's Perelman School of Medicine and an independent clinical and translational research investigator at the Abramson Cancer Center's National Cancer Institute-approved Melanoma and Cutaneous Malignancies Research Program. Dr. Gangadhar serves as the principal investigator of several clinical trials in the Melanoma Program, with a focus on novel immune therapies for patients with advanced melanoma. She has developed several successful translational collaborations with scientific laboratory based collaborators both at Penn and at outside institutions, including Penn's Institute for Immunology. Dr. Gangadhar is currently an appointed member of the American Society of Clinical Oncology (ASCO) Scientific Program Committee for the Melanoma/Skin Cancers Track. Prior to joining the faculty at Penn, Dr. Gangadhar completed fellowship training in both hematology/oncology and in clinical pharmacology/pharmacogenetics at the University of Chicago and is board certified in both medical oncology and clinical pharmacology, as well as internal medicine.
Tara C. Gangadhar, M.D.
Assistant Professor of Medicine
Hematology-Oncology Division
Abramson Cancer Center of the University of Pennsylvania
Office 3400 Civic Center Blvd, South Pavilion, Floor 7, Philadelphia, PA 19104
Phone 215-662-7908
Fax 215-662-4646
2017
Below is a listing of our community outreach programs that are currently scheduled for 2017. All skin screenings and education programs will be conducted by staff members from MD Anderson Cancer Center at Cooper.
Unless otherwise noted, these sessions are not open to the general public.
February 2nd American Biltrite Inc. Moorestown NJ
April 29th Battleship New Jersey, Camden, NJ
Read More
The Melanoma Action Coalition held its first conference on November 17th and 18th in Chicago. The conference was titled, " Defeating Melanoma in our Clinics and Communities".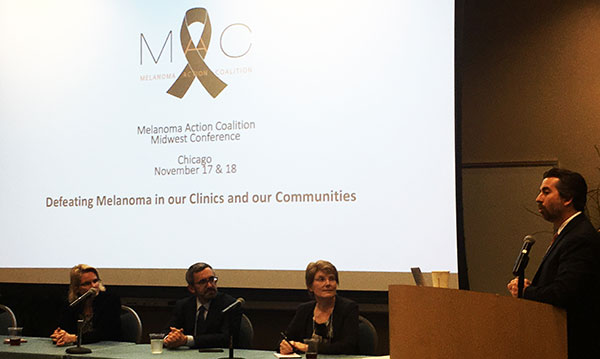 Dr. Jason Luke the keynote speaker, delivered a very informative presentation about new treatments in the pipeline. The conference also included a panel discussion with Drs. Sigrun Hallmeyer, Bruce Brockstein, and Louise Perkins.
The open discussions helped the grassroots foundation leaders learn how to improve their fundraising efforts and better utilize social media to get information out to our followers.
The conference was a great success and we are already thinking about next year.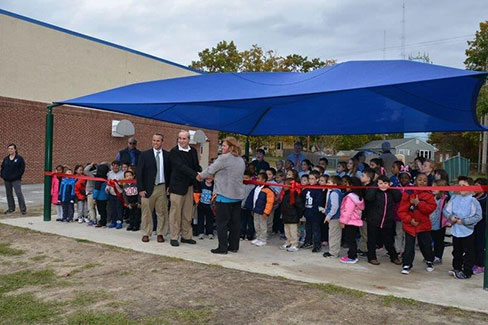 Sun Shade Ribbon Cutting at Albert Bean
In the Fall of 2017, PSMRF donated funds to erect a Sun Shade in a local elementary school. The Albert Bean School in Pine Hill, NJ was the first recipient of this type of PSMRF funding. The Ribbon Cutting for the sun shade was held on November 8th and was erected in the school yard where the children will have a chance to play, or read or sit in a shady place during recess time.
The Albert Bean School was chosen as our first recipient because it was the school where Peggy taught for many years and where she was a much loved teacher and staff member.
Abramson Cancer Center University of PA Medical Seminar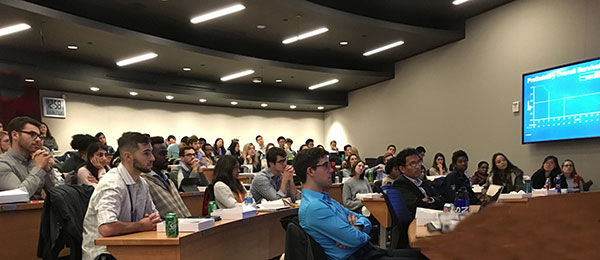 ---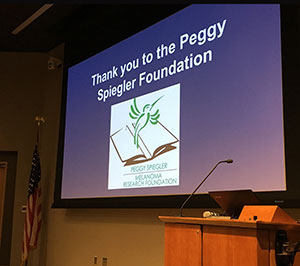 In 2017, PSMRF awarded a significant grant to the Abramson Cancer Center,
Penn Medicine, in the name of Peggy Spiegler. A portion of this grant
funded melanoma seminars given to medical students by Dr. Lynne Schuchter, a
leading physician in the melanoma field.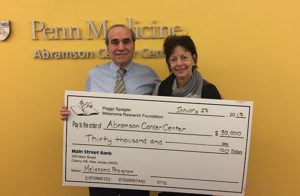 Abramson Cancer Center Check Presentation
Check presentation by Neil Spiegler. Executive Director PSMRF to Dr. Lynne Schuchter, Abramson Cancer Center, University of Pennsylvania. The funds from PSMRF will be used towards Melanoma scientific research and education.
2016
Skin Screening and Education:
Below is a listing of our community outreach programs that were conducted in 2016. All skin screenings and education programs were conducted by staff members from
MD Anderson Cancer Center at Cooper. In all, close to 500 people participated in these programs during the year.
3/30 Melanoma skin screenings at Collingswood Mayor's Wellness event, Collingswood NJ
4/17 Melanoma skin screening at Marlton Community Center, Marlton NJ
6/20 Melanoma skin screening and education at Campbell's Soup Camden NJ
6/25 Melanoma skin screening at Cooper River Park Peggy's Melanoma Walk/Run, Pennsauken, NJ
6/25 VIP Vets Event: melanoma skin screening at Camden Aquarium, Camden NJ
8/14 Melanoma skin screening at JCC Cherry Hill NJ
8/28 Melanoma skin Screening at JCC Cherry Hill NJ
9/24 Melanoma skin screening at Camden County College Camden NJ
10/2 Melanoma skin screening at Berlin Night Out, Berlin NJ
10/26 Melanoma education program at Dow Chemical Newark DE
10/31 Melanoma skin screening at Wilmington Bank, Cherry Hill NJ
12/5 Melanoma skin screening at Dow Chemical Newark DE
2015
Medical Education Seminar
Melanoma: From Screening to Revolutionary New Therapies, Continuing Medical Education Seminar co-sponsored by MD Anderson Cooper Cancer Center and PSMRF. This event was hosted by the MD Anderson Cooper Cancer Center for their medical personnel.
Lunch and Learn session about Melanoma for Zurich Insurance Company employees
May was Melanoma Month at Zurich Insurance Company where an employee Melanoma Awareness/information session was held and sponsored by PSMRF and University of PA Hospital.
Cherry Hill Melanoma Awareness Day
Clara Barton School, Cherry Hill NJ
The Clara Barton School in Cherry Hill held a Melanoma Awareness Day. Free skin screenings and a UV camera were at the event plus free melanoma material and sun screen were handed out to participants.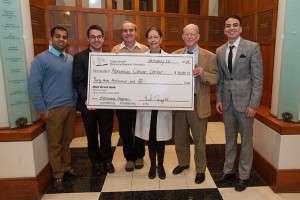 University of Pennsylvania Presentation
PSMRF made its annual melanoma funding presentation to Dr. Lynn Schuchter the head of the hematology and oncology departments at Abramson Cancer Center, University of PA. .. Funds helped to underwrite a Melanoma Conference, to support research projects, and to help pay the salary of a melanoma clinical trial manager.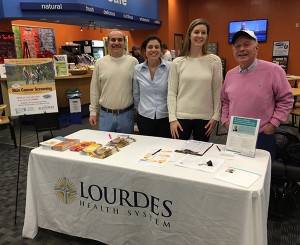 Free skin screenings at the Cherry Hill Health and Racquet Club
PSMRF and The Cherry Hill Health and Racquet Club collaborated on a melanoma awareness and skinscreening day. Participants were able to spend some time using the up-to-datefacility; Skin screenings were performed byDr. John D'Meilia of Cancer Care of South Jersey.
2014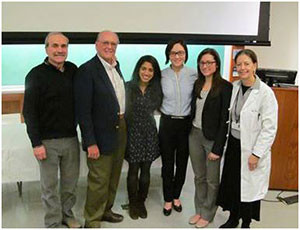 Second Annual Melanoma Journal Club Meeting
Dry Lynn Schuchter, Chief of the Division of Hematology/Oncology and leader of the Melanoma Research Program at Abramson Cancer Center hosted the 2nd annual Melanoma Journal Club meeting which was funded by the Peggy Spiegler Melanoma Research Foundation.
2013
Grand Rounds – Continuing Education
Cooper Cancer Institute staff presented the melanoma component of their "Grand Rounds" continuing education program. The presentation was given to doctors, nurses and staff by Dr. Naomi Lawrence.
Cooper Cancer Institute Presentation
PSMRF presented a check in the amount of $25,000 to Cooper Cancer Institute. These funds will provide a significant amount of support to their Cooper in the Schools Program. These programs are held locally primarily for educators, nurses, trainers et al to provide better understanding of health issues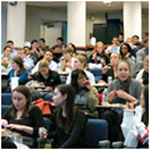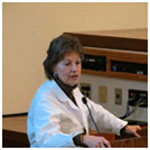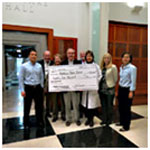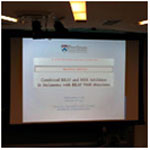 Abramson Cancer Center University of PA Presentation
PSMRF awarded a significant grant to the Abramson Cancer Center, Penn Medicine, in the name of Peggy Spiegler.
A large portion of this grant funded melanoma seminars given to medical students by Dr. Lynne
Schuchter, a leading physician in the melanoma field. In addition, funds were be used by Abramson Cancer Center to helpsupport families who are coping with the issues of having a family member
battling melanoma
2011
8th Annual Focus on Melanoma Conference
Hilton Hotel, Philadelphia PA
Cooper in the Schools Programs– Educational seminars
Burlington County School Nurses Off-Site Training
Collingswood – Athletic Trainers
AM Cooper Hospital – Cherry Hill Nurses
Salem County School Nurses In-service
2010
Cooper in the Schools Programs– Educational seminars
SafeKids New Jersey Outdoor Safety For Kids Event – Tabernacle Elementary School
SafeKids New Jersey Outdoor Safety For Kids – Boys and Girls Club of Camden
Camden City Public School Nurses Off-Site Training